PVC skirting board making machine line
---
Application:
this series production line is designed for extrusion of PVC plastic door's and window's profile and crosssection cable pipes,ceiling profiles and etc.PVC profiles are widely used in the building industry,home and office decoration.
Properties and Advantages: This line features stable plastIcization, high output,low sheering force,long life service and other
advantages. The calibration unit's pump and haul off unit's reducer are famous brand products. After simple changing of the die
and screw, it also can produce the foam profiles.
Products



Application



Die


Drawing

OTR100 Type online hot stamping machine for skirting board
1. Performance and Feature
● It is installed on extrusion line, before Haul-off, after calibration table;
● Generally, how many shapes of profile will need how many sets of OTR100 model hot stamping machine, so it's better to offer the drawing or sample of profiles, then we can confirm how many sets of machine it will need and also check the transmitting method.
● It is used to heat transfer printing designs on the small profiles within 8cm, such as auxiliary profile for ceramic tile, ceiling, skirting, edge band, PS picture frame, profile for freezer and etc.


The decorated profiles: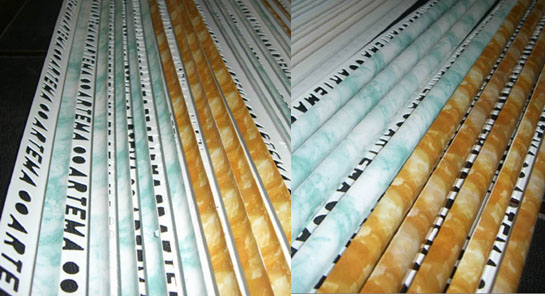 2. Flow chart of OTR100