Volumetric twin Screw Feeder
---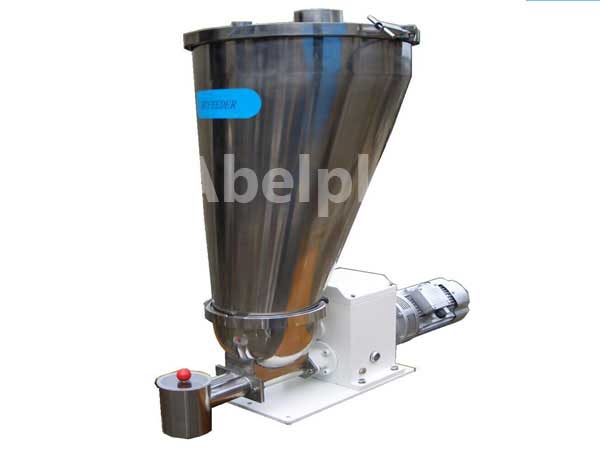 Application:
The V-T feeder is designed to provide volumetric feeding program for a wide variety of materials including poor flowing powders, fibers and flakes.
Design:
Twin screw feeder with interchangeable feed screws is mounted on painted steel base plate. All material contact parts are stainless steel.
The feeder is easily disassembled for cleaning or change over. Special design of feeding bowl is unique, horizontal agitator isequipped to
improve material filling into screw flight.
Controller:
Motor speed regulator will be frequency inventor. Frequency inverter can be supplied by customer.
Actual feeder screws are determined based on the material characteristics. The following is estimated feeding
rates for free flowing materials. For feeding rates at either end of the range, feeding testing is recommended.
Feed Model
Feed rates
Material
Asymmetrical Hopper
Symmetrical Hopper
V-T28
15-500 L/h
Free/poor flowing powder、mixture of powder and

pellet as well as fiber, flake

40L/80L
10L/40L/80L/120L
V-T38
60-1600L/h
80L/120L/150L
80L/120L/180L
V-T46
300-4000L/h
80L/120L/150L
120L/180L/300L
Material contact parts 304 Stainless Steel
Seals Neoprene
Painting Light Grey
Options :
Standard Hopper
Vertical agitator
Manual/ Auto refill
Vertical outlet
Special paint/ finish
Extended screws
Stainless steel base plate
Configuration :
Type
A
B
H3
C
axb
Asymmetrical hoppers
Symmetrical hoppers
V1(L)
H1
D1
X
V2(L)
H2
D2
T28
218
800
278
100
380X275
40
550
430
100
10
318
230
40
433
430
80
780
530
150
80
610
530
120
684
630
T38
200
940
265
127
450X280
80
687
530
125
80
550
530
120
792
630
175
120
653
630
150
962
630
175
180
866
630
T46
353
1135
292
127
530X300
80
622
530
100
120
600
630
120
730
630
150
180
811
630
150
929
630
150
300
1235
630