Series of wood-plastic mixer unit SRL-Z is the introduction, digestion and absorption of foreign advanced technology, based on the combination of wood flour inherent characteristics of development, with uniform mixing, mixing speed, accurate temperature control, a high degree of automation, easy to operate.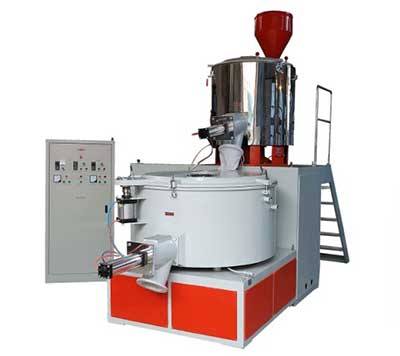 Advantages:
1. The lid is double sealed;
2. Has self-friction and electric heating, heating;
3. Discharge mode with automatic temperature control and manual control;
4. The pulp leaves overall stainless steel, and by dynamic and static balance tests refining;
5. Electrical control the designer electrical components;
6. The mixed pot gall stainless steel plate, lid, unloading device is made of aluminum alloy, corrosion-resistant;
7. The crew of the hot mix and cold mix process together complete hot mix of wood-plastic material mixer for cooling automatically into the cold, to exclude residual gas, materials to prevent caking;
8. Converter soft start control to mitigate the impact on the grid.
The main technical parameters:
Type
MSRL-Z300/600
MSRL-Z500/1000
Total volume (L)
300/600
500/1000
Effective volume (L)
200/360
350/640
Motor power (kw)
40/55/11
47/67/15
Paddle speed
475/950/130
430/860/60
Water consumption (t / h)
3~8
6~8
For heating, cooling
Electricity,

self friction / water

Electricity,

self friction / water

Mixing Time (min)
8~10
8~10
Weight (t)
3.8
4.8
Dimensions
4580×2240×2500
4600×3000×4000