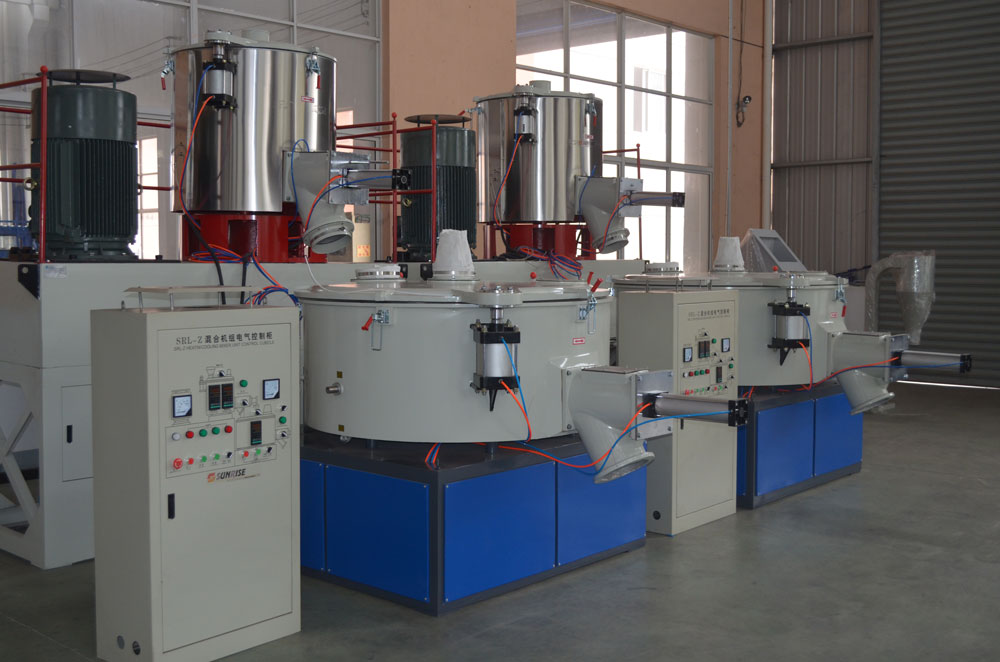 Ableplas SRL series mixers are mainly used in mixing PVC and all kinds of plastic materials mixing, colouring, drying etc. Our SRL series mixers adopt advanced design and it can be operated easily, safely and reliably. They have small size, high efficiency, low energy consumption and low noise.
1.It includes heating part and cooling part.
2.The pot cover adopts two layers of sealing technology.
3.The electrical control section adopts famous brand.
4.It is equipped with dusting device.
5.The blades have passed with the test of dynamic balance and static equilibrium.
| | | | | |
| --- | --- | --- | --- | --- |
| Model | Hot mixer(L) | Cooling mixer(L) | Power(kw) | Output(kg/h) |
| SRL-Z100/200 | 100 | 200 | 14-22 | 200 |
| SRL-Z200/500 | 200 | 500 | 30-42 | 360 |
| SRL-Z300/600 | 300 | 600 | 40-55 | 480 |
| SRL-Z500/1000 | 500 | 1000 | 55-75 | 720 |
| SRL-Z500/1600 | 500 | 1600 | 55-75 | 720 |
| SRL-Z800/1600 | 800 | 1600 | 83-110 | 1200 |
| SRL-Z800/2500 | 800 | 2500 | 83-110 | 1200 |
| SRL-Z1000/3000 | 1000 | 3000 | 110-160 | 1800 |