Ceiling Profiles and Wall Panels are made from special PVC Compounded materials which are widely used for decorative purposes in homes, offices, shops and workshop.uPVC profiles are commonly used for wall and Ceiling paneling which provides acoustic / thermal insulation and an attractive maintenance free installation. Holborn manufactures ceilings with a wide range of colors and attractive designs.
Features:
Installation : PVC Ceilings are easy to use and quick to install.
Water Proof : Ceiling products are unaffected by water and do not expand and contract when they come in contact with moisture.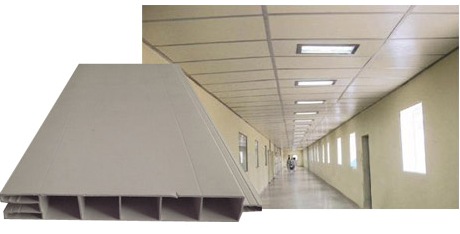 Termite Proof : Our products are termite proof and are not harmed by termites or other insects.
Maintenance Free : PVC ceilings are virtually dirt-resistant They are extremely easy to clean using household detergents.
Durable : PVC Ceilings have excellent aging properties.
Fire Retardant : uPVC Ceiling Profiles are not inflammable.
Other features Affordable, Impact Resistant, Abrasion Resistant, Light Weight, Excellent Thermal Insulation and Excellent Acoustic Properties.