Vinyl siding continues to be the top cladding choice for home builders and remodelers but fiber cement is gaining ground — at an alarming rate to some PVC extruders — followed by stucco and brick.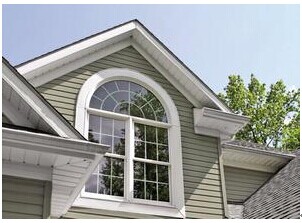 Market share for the plastic building material dropped from 39 percent in 2003 to 27 percent in 2013, according to Freedonia Group Inc.
Fortunately for vinyl siding manufacturers, overall siding demand is expected to increase by 7.1 percent a year to 103.5 million squares in 2018 with a total value pegged at $12.1 billion by the Cleveland-based market research firm.
Although vinyl is losing share to competing materials, forecasters say the siding market will grow with a post-recession rebound in construction and replacement activity. Last year's demand for 73.5 million squares of siding is expected to go up another 30 million squares in the next four years.
A square covers 100-square feet, or a 10-foot-by-10-foot area.
Vinyl siding's share of the demand, which was 20.1 million squares in 2013, should rise by about 5.2 percent annually to 25.9 million squares in 2018, which is just shy of its 2008 volume, Freedonia analysts say.
However, fiber cement siding remains a robust and somewhat worrisome runner-up. Demand is expected to increase by 8.2 percent a year from 13.8 million squares in 2013 to 20.5 million in 2018.
Stucco will stay the third most popular U.S. siding, also growing by 8.2 percent annually, Freedonia says, while demand for wood siding goes up 4.5 percent through 2018. Even so, wood will probably lose its fourth-place spot in the next few years to brick, which is on track to see the biggest increase of 9.6 percent a year.
"Other" building items, including polypropylene siding, make up the balance of materials used.
A few trends are at play in the siding shakeup, including slower population growth and remodeling activity in the Midwest and Northeast — traditional vinyl strongholds — and a builder penchant to use a mix of cladding materials, like brick or stone at the base of the house and vinyl on the rest.
To keep their lead, vinyl siding manufacturers continue to introduce bolder colors, improve thermal performance, and promote advantages related to price and quality.
"It's probably a little too early to call vinyl siding in trouble," said Simon Bates, vice president and general manager of the exteriors division of Royal Building Products, which is part of Royal Group Inc.
Based in Woodbridge, Ontario, Royal Group is the 3rd-ranked pipe, profile and tubing extruder in North America with PPT sales of $849.9 million, according to Plastics News' current rankings.
A growing number of those sales are for Celect Cellular Exteriors, which Bates said has sold out of production twice since hitting the market in late 2012. A manufacturing plant in Bristol, Tenn., will be expanded to keep up with orders for the cellular PVC siding that not only mimics the look of wood but has seamless interlocks and a tough top coat of Kynar Aquatec paint offered in 18 colors.
"There are no visible seams," Bates said in a telephone interview. "You don't have to caulk it. You've got the look of newly painted wood and a 25-year, no-fade warranty. We're not allowed to call anything zero maintenance, but it is incredibly low maintenance."
Royal's Celect collection is competing with cedar plank and fiber cement.
"It's positioned between the two — more expensive than fiber cement but less expensive than cedar plank," Bates said.
Several sources track cladding use, including the U.S. Census Bureau, and they show vinyl siding with a stronger hold on the top spot, he added. Census figures say vinyl was the principal type of exterior wall on 31 percent of single-family houses completed in 2013 compared to 25 percent for brick, 22 percent for stucco and 16 percent for fiber cement.
"There's a variety of data points out there and we're trying to pick our way through to understand them better," Bates said.


Image By: Royal Group Inc. Celect Cellular's PVC trim.
High in fiber
No doubt fiber cement is gaining in popularity. The census didn't even keep specific figures for the building material until 2005, when it used on 9 percent of new houses compared to 34 percent for vinyl.
The slurry of sand, Portland cement, wood fibers and trace amounts of additives is turned into sheets and a wood grain pattern is rolled over the top. Fiber cement's early ability to look like wood gave it a foothold in the siding market, Freedonia analyst Matt Zielenski said in a telephone interview.
"Until recently, vinyl had that plasticy appearance, which some consumers don't like," he said.
Fiber cement first was used to replace rotting wood siding in the west and then it took off in the south, where manufactured housing builders bought it in bulk, Zielenski said.
"Right now there has been a push by fiber cement producers to market it as a replacement for wood and vinyl," he added.
One major fiber cement manufacturer posts a four-point chart on its website that says its siding offers better protection than vinyl when it comes to flame, fade and weather resistance as well as thickness. The online comparison says fiber cement is approved for fire-rated construction while vinyl siding will melt or burn from significant heat. It also says fiber cement withstands hail and 150-mile per hour winds while vinyl can be damaged from flying debris. And, it says colors resist fading more than vinyl with an asterisk of fine print noting tests were accelerated in a lab.
Jerome Zenoby, brand manager of Heartland Siding and Heritage Stone, which are made by Ohio-based ProVia, said he is troubled by what he and others in the vinyl siding industry consider misinformation. ProVia's website has a 10-point comparison chart that touts vinyl advantages over fiber cement for maintenance, water resistance, color retention, wind load, impact resistance, energy efficiency and cost, among other qualities.
"It's not unlike other markets with 'he said, she said,' but you're competing against lies and what not, if I can be that bold," Zenoby said in a telephone interview. "It's definitely got our attention and we are concerned."
With estimated sales of $50 million, Heartland Siding ranks 56th among PPT extruders, according to Plastics News.
To help educate end users, ProVia started offering a sales presentation kit earlier this month that describes how the raw ingredients of its siding contribute to impact resistance and UV protection at the molecular level. The kit is called "The Science of Super Polymer Siding."
Lionel Dubrofsky, president of Kaycan Ltd., which makes KP Building Products, also questions fiber cement claims.
"The only thing it has over vinyl is a higher fire rating," he said in a telephone interview, quickly qualifying the statement. "If houses are built very close to each other, a certain rating board has to be put behind vinyl siding."
KP Building Products is ranked 18th by Plastics News with estimated sales of $230 million. Dubrofsky said fiber cement has its place in the market and he doesn't want to bash it but he is glad vinyl siding advocates are doing a better job of tooting their own horns.
"Vinyl siding has caught up with the color palate," he said. "It installs easier. You don't need to wear respirators or masks because of the silica dust. Vinyl is affordable. It's a value-based product that looks excellent for many years to come."
The competition from fiber cement is spurring some polymer product improvements and marketing.
"As an industry, when fiber cement came in, we took our eye off the ball a little," Dubrofsky said. "Fiber cement made us become more aggressive and really step up to the plate. We continue as an industry and as a company to come out with different profiles, different ways to attach the siding, and new innovations."
Bring it on
Montreal-based KP, Heartland and other manufacturers and suppliers to the industry belong to the Vinyl Siding Institute (VSI) — a trade association that is in the midst of its own blitz of brochures, website information and community engagement, particularly in the fast-rising area of Charlotte, N.C.
According to the VSI, vinyl siding has it all over fiber cement in terms of durability, beauty, maintenance, installation, value and even life-cycle analysis. Some manufacturers offer products that withstand 190 mph winds, the institute says.
"Market leaders are always a target for new players," VSI President and CEO Jery Huntley said in an email. "Rather than compete on the merits of their own products, they often resort to marketing their cladding as 'not vinyl.' But since vinyl siding has been the No. 1 cladding choice for the past two decades, is that really good positioning?"
Vinyl siding has come a long way since VSI launched a product certification program in 1998, the institute touts.
"One of the most significant evolutions is quality assurance," Huntley said.
Participating manufacturers are required to meet or exceed international standards for performance to obtain the certification label and most do. The VSI says 98 percent of all vinyl siding made in the United States is certified and more than 400 colors have been certified to retain color.
Huntley also points out that compliance is verified by a third party.
"Vinyl siding, including insulated siding, and polypropylene siding are the only exterior claddings whose certification program is administered by an independent, quality control agency that ensures that products and colors meet or exceed ASTM standards," she said.
ASTM International develops technical standards for materials, products and services to guide quality design and manufacturing.
Kelli Hill, spokesperson for siding products manufactured by Associated Materials LLC, said in a telephone interview that part of her job is to do competitive analyses of all claddings. Associated makes building products sold under several brand names, including Alside, and it ranks 16th with estimated sales of $252 million, according to Plastics News.
Hill welcomes the chance to talk strengths and weaknesses about siding.
"The nice thing about vinyl is the price," she said, citing VSI figures, which say that for dollars per square, vinyl costs $201 ($97 for materials and $104 for labor) and fiber cement costs $300 ($121 for materials, $124 for labor and $55 for paint).
The Charlotte area is shaping up to be a good place to have a conversation about cladding. Population growth in the area is expected to outstrip the nation with Mecklenburg County — now at 969,000 people — exceeding 1.3 million people by 2040, according to an outlook released this year by Regional Economic Models Inc.
Jeffrey Smith, VSI's senior manager of communications, said in an email that vinyl siding manufacturers see opportunities there compared to regions like the Southwest where stucco dominates. In addition to positive economic indicators, Eastern homeowners prefer traditional architecture and the look of wood. Smith describes it as overlay region "where housing is recovering at a faster pace, incomes are healthy, unemployment is low and you have a reason to stay strong in Charlotte."
VSI will exhibit at the 21st Century Building Expo in Charlotte in September "and of course, we will be promoting our presence there," Smith said. "To be clear, the industry has been serving Charlotte-area builders and remodelers successfully for years. The strategy is to keep doing what we've been doing; after all, it's what's kept us ahead of the competition for two decades."
Hill expects industry leaders also will reach out to specific decision makers and homeowners in general.
"In North Carolina, we're dealing with a perception issue so we're looking at a very grassroots level campaign — sitting down at small lunches, meet and greets, little events to get to the builder, consumer and local officials," Hill said. "All we really want to be certain about is that they have the facts."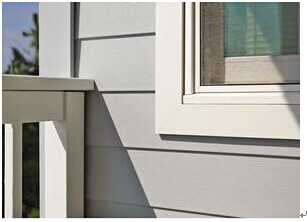 Image By: Royal Group Inc. Vinyl window trim made by Royal Group Inc.'s Celect Cellular.
Geographic issues
A lot of recent housing starts also are concentrated in California, Texas and Florida, where vinyl siding isn't the top choice.
"It's brick and stone in Texas, wood and fiber cement in California and stucco in Florida," Bates said. "We think that's skewing the data as well."
Zielenski agrees and said the same goes for replacement siding.
"Vinyl siding is traditionally used in the Midwest and Northeast and those parts of the U.S. are showing slower growth in population, housing starts and remodeling activity compared to the South and West, where vinyl is used less," he said. "That's one of the issues."
Zielenski said he thinks efforts to produce insulated vinyl siding will help bolster demand.
Last year the VSI added insulated siding to its product certification program in anticipation of changes to the 2015 International Residential Code and Energy Conservation Code, which will be published over the next year.
Insulated vinyl siding has a manufacturer-installed rigid foam — usually expanded polystyrene — adhered to it. When installed, it forms a continuous thermal wrap around a house so heat can't escape through the studs or framing materials.
"All of us in the vinyl siding industry have an insulated panel today," Dubrofsky said. "It's there; it's growing but not at the rate where it will replace hollow-back vinyl siding."
Certified insulated siding ensures a minimum resistance value of R-2.0, which is the new international standard. R-value measures resistance to heat flow through a given thickness of materials.
Huntley said certified insulated siding will appeal to homeowners wanting to lower utility bills and meet requirements for the Energy Star Qualified Homes Program, which recognizes dwellings that offer energy efficiency, comfort and durability.
Bucking the trend
For builders and homeowners wanting a variety of cladding materials, PVC extruders are offering a bigger variety of vinyl options, such as vertical and horizontal siding, batten siding with alternating widths, as well as shakes, scallops, fluted and beaded corner posts, crown molding and brackets to achieve all kinds of architectural styles.
Vinyl's ability to simulate the timeless look of wood and blend attractively with other materials are being heavily promoted. CertainTeed Corp. trademarked the name Vinyl Carpentry for one of its lines of siding, soffits and trim. The Lancaster, Pa.-based company ranks sixth with estimated sales of $600 million.
And, last month Ply Gem Industries Inc., which is based in North Carolina, partnered with another business to open a showroom in Loveland, Ohio.
"We want to help customers visualize all that is possible in achieving a dream home design," Jerry Blais, a senior vice president of marketing, said in a news release.
Ply Gem is the fifth ranked PPT extruder with estimated sales of $750 million.
Dubrofsky sees cause for optimism.
"Today what's quite remarkable, what bodes well for vinyl siding, is that you see it on all four sides of homes that are $750,000 to $1 million," he said. "The notion that vinyl siding goes on lower-end homes is over."
KP also has started making thicker vinyl panels up to 0.050 inches, which he said look good and are easier to install; while Associated Materials started offering its darker colors in 0.042-inch panel thickness at the request of southern builders.
"When we were able to meet that need for them it opened a nice door for us," Hill said. "We have really noticed for Q4 of last year and Q1 of this year new construction sales in the southern region are definitely picking up. That's a heavy brick and fiber cement area but vinyl is finding its way into nice new developments."
ProVia bought Heritage Stone in 2011 in response to the shift to other building materials.
"We believe manufactured stone is taking some market share from vinyl siding," Zenoby said. "Since we're in both businesses, we're not dissatisfied with that. A home entirely clad in vinyl siding is a nice home but when you add accents of manufactured stone it makes for some beautiful homes."
Royal is working on a polyurethane stone product that could be combined effortlessly with its vinyl siding, Bates said. He said the cladding should hold onto its lead for the next decade and then it could depend on "the geographies of where things get built," people's preferences and the industry's ability to innovate.
Huntley doesn't think vinyl siding will ever be second to the other claddings because it's a tried-and-true material on millions of homes in North America.
"When you buy a home with vinyl siding or remodel with it, you won't be surprised by costs down the road," she said. "It never needs sealing, painting, caulking or repointing as other claddings do. These cost assurances are peace of mind for new families, couples aging in place, and everyone in between."